We believe that a sustainable business strategy benefits both the environment, the bottom line and the customer.
We have therefore invested heavily in developing sustainable business practices during the last two decades. Here are some examples of our green initiatives:
Securing an energy-efficient production
We have replaced all motors in our production facility with new high-efficiency models. Today, all our production lines use energy-efficient motors. As a result, we have been able to cut our annual energy consumption in half.
We monitor our energy usage on a continual basis to eliminate any wasteful practices, such as energy losses caused by mechanical problems or maintenance needs.
We have replaced our diesel forklift truck with an electric model that does not generate emissions.
Improving resource-efficiency through product innovation
We use virgin polypropylene to produce our fibres. Polypropylene is the most energy-efficient raw material to use among synthetic fibres, because it is created as a by-product. Hence, less energy is required for its production.
We are developing a new construction fibre with an improved surface character, which increases the ability to prevent concrete cracking. As a result, a smaller amount of polypropylene fibre is needed in the concrete mix, providing a more energy-efficient solution.
We have also created an on-site cutting machine to help customers reduce waste. With the machine, our customers can cut fibre-tow in different lengths, as needed, on the building site. Thereby, customers avoid buying excessive amounts of fibre in specific lengths, and leftover fibre-tow can be used for other building projects.
Employing a critical approach to supplier selection
When we select our suppliers, we do not only look at price and quality. We also examine whether our suppliers conform to standards of sustainability, e.g. environmental management, pollution control and social responsibility.
Partnering with customers to ensure a green delivery strategy
We work together with our customers to optimise the supply chain and outbound logistics. As an example, we can deliver directly to the construction site, instead of delivering to our customers' warehouse. In this way, we reduce transportation time, costs and CO₂ emissions. For the protection of our clients' interests, we always sign a customer protection agreement.
We are investing in a new packaging system that will ensure effective storage during transport. The aim is to increase the amount of fibres stored in each box, to reduce costs and CO₂ emissions.
Environmental certifications
We have been ISO 14001-certified since 2004, which is the international standard that sets out the criteria for an environmental management system, and we employ green reporting.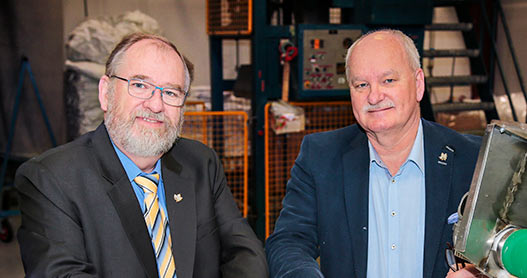 High-performance polypropylene fibres for concrete reinforcement – improving crack control, tensile strength and fire protection.